New research sees 49 percent of U.S. adults will be obese by 2030, observes
Grumpy Editor
.
A quarter of the population will struggle with severe obesity by the end of the decade, according to a Harvard T.H. Chan School of Public Health study.
Putting on extra pounds raises the risk of heart disease, stroke, diabetes, cancer and other health problems.
"Obesity is going up in terms of the number of people who have it, and the degree or severity of obesity is going up," notes Zachary Ward, a Harvard programmer and analyst who served as lead author of the report.
Currently, 40 percent of Americans adults are obese while 18 percent suffer from severe obesity.
Researchers see severe obesity growing highest among women, black adults and low earners.
By 2030, 21 percent of men are expected to be severely obese, compared with 28 percent of women. 
IN CASE YOUR FAVORITE NEWS OUTLETS MISSED THESE…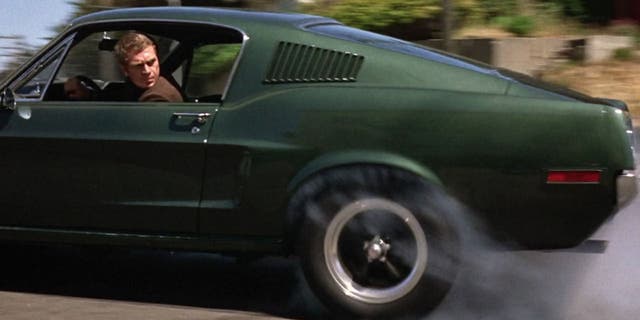 Actor Steve McQueen behind the wheel of a custom
1968 Ford Mustang in the movie "Bullitt."
MUSTANG IN 'BULLITT' SELLS FOR $3.4 MILLION.  The iconic green custom 1968 Ford Mustang GT 390 featured in the film "Bullitt" starring Steve McQueen is sold for $3.4 million at the Mecum Auctions event in Kissimmee, Fla. --- the latest chapter in the long-lost car's story, which may be even better than the movie.  
TRUMP GOLF CARTS COST GROWS.  The Secret Service rents 84 golf carts for President Donald Trump's planned visits to Florida through May, costing taxpayers more than $50,000, according to federal procurement filings revealed in a report by Quartz, which covers business, economics, markets, finance and technology. That brings the total cost of the agency's cart rentals for Trump's golf outings to more than $550,000, adds Quartz.
TACO BELL BOOSTS MANAGERS SALARY.  Fast-food chain Taco Bell says it soon will be offering general managers at some stores a competitive salary of $100,000 to help attract and retain workers.  Current salaries for general managers at company-owned  stores are between $50,000 and $80,000.
DOG IN AUSTRALIA SAVES HUNDREDS OF SHEEP.  Patsy the Wonderdog, an Australian sheepdog, is credited with saving hundreds of the animals by herding them to safety as spreading fires burn in Victoria.
SQUIRREL WRECKS HOUSE.  A squirrel that apparently fell into an Atlanta house through a chimney and desperate to get out chews a lot, causing at least $15,000 in damage, while homeowners are on vacation.  Insurance company says it is not responsible to cover the cost of the damage.
HALLMARK CUTTING JOBS.  Family-owned Hallmark Cards, says it will be cutting 400 jobs in its greeting card business, retail business and corporate support functions out of 30,000 global employees.
UNEMPLOYMENT STAYS AT 50-YEAR LOW.  U.S. employers add 145,000 jobs last month capping a 10th straight year of payroll gains, while unemployment stays at a 50-year low of 3.5 percent.  
TEENAGER DISCOVERS NEW PLANET.  On his third day interning in a NASA job, Wolf Cukier, 17,  discovers a new planet. While looking through a telescope at TOI 1338, a solar system 1,300 light years from Earth, the high school senior from Scarsdale, N.Y. spots the undiscovered planet that is 6.9 times larger than Earth.