Grumpy Editor asks: If someone crossed 4,500 nautical miles of the Atlantic Ocean solo, unassisted and unsupported on a stand-up paddle board, should that make headlines?
Well, South African watersport pro Chris Bertish did just that --- and received limited U.S. media coverage of that amazing adventure that took 93 days on a custom-made, 1,360-pound, 20-foot-long paddle board fitted with a small cabin and solar panels.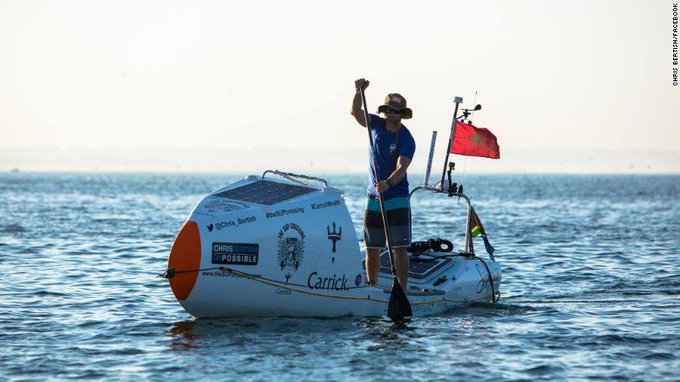 CNN and the New York Times ran stories on the accomplishment. But most other major media were busy detailing and analyzing Washington happenings.
Bertish paddled off from Agadir, Morocco, on Dec. 6 and arrived at English Harbour, Antigua, on March 9.
Also, Bertish set the record for the farthest distance traveled solo, unsupported and unassisted over open ocean in a day, 72 miles.
IN CASE YOUR FAVORITE NEWS OUTLETS MISSED THESE…
Global warming? A major northeaster storm threatens to shut down travel today and tomorrow due to heavy snow and strong winds from Washington, D.C. to Boston and beyond. Government workers in Washington are hoping for another "snow day" off from work…A month after the death of North Korean Kim Jong Nam, victim of a nerve agent attack at Kuala Lumpur, Malaysia, stories continue to appear daily in U.S. newspapers…Student editors at The Crusader newspaper at College of the Holy Cross, Worcester, Mass., are debating whether to change the paper's name after being confused with a Ku Klux Klan publication with the same title…Palms Casino Resort, just off the Strip in Las Vegas, advertises rooms as low as $39 per night.  But fine print adds $31.99 as a daily resort fee, making the daily tab (before other taxes) a penny short of $71...A CareerCast, Carlsbad, Calif., jobs report puts broadcast and sound engineering technician among the 10 best freelance, part-time, and contractual jobs for 2017…Creating a howl: A Maine lawmaker's bill requiring dogs to be harnessed or tethered in moving vehicles didn't go over well. It would have eliminated happy dogs sniffing surroundings while hanging out car windows with their ears flapping in the breeze. A flap by constituents caused state Rep. Jim Handy (D) to withdraw his bill.
On last week's "A Day Without a Woman" protest, WUHT, a Birmingham Cumulus Media radio outlet, followed through by taking women hosts off the air and playing only songs by men.