Grumpy Editor has a handle on why so many people are glum these days:  they read/hear abundant negative headlines such as these over the past three days —
 

U.S. sees highest number of new coronavirus cases since August
North Korea displays massive ICBM at military parade

Hurricane Delta leaves hundreds of thousands without power

A diabetes drug is recalled because it contains high levels of a cancer-causing agent

Coronavirus could worsen in winter, remain major threat through 2021

California wildfires ravage dozens of family-run wineries
COVID-19 vaccine delivery pegged for start of new year
USDA mourns inspector, 24, shot in Mexico
French hospitals packed amid rise in COVID cases
The World Health Organization estimates roughly 1 in 10 people worldwide may have been infected by the coronavirus. 
IN CASE YOUR FAVORITE NEWS OUTLETS. MISSED THESE…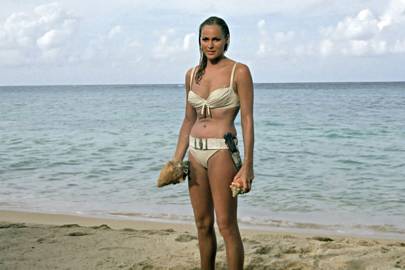 Ursula Andress in "Dr. No" Bond movie
AUCTION SET FOR BIKINI IN JAMES BOND 007 MOVIE.   Actress Ursula Andress's iconic bikini that made waves when she emerged from the ocean in the 1962 first James Bond movie, "Dr. No," is scheduled to be auctioned --- for an estimated $500,000 --- in Los Angeles Nov. 12-13. 
FLY BECOMES WORLD FAMOUS.  A fly that landed on Vice President Mike Pence's forehead for two minutes during last week's debate with Sen. Kamala Harris grabs worldwide fame in stories and photos, including coverage in the New York Times.  The fly also takes center stage on "Saturday Night Live."
BROADWAY TO REMAIN DARK THROUGH MAY 30. New York's Broadway lights will remain dark until at least May 30 as social-distancing guidelines designed to curb mounting COVID-19 infections undermine businesses dependent on high customer volume. Producers previously said shows would resume after Jan. 3.
SINGAPORE OFFERS TO PAY NEW PARENTS.  To help reassure people who face financial pressure and are worried about their jobs, Singapore is offering a one-time payment to aspiring parents during the coronavirus pandemic.
CBC TRIMS STAFF.  Canadian Broadcasting Corp. plans to shed more than 60 jobs across multiple divisions, including its news division.
U.S. TROOPS TO BID FAREWELL TO AFGHANISTAN.  After 19 years in the country, all U.S. troops will be out of Afghanistan by year-end, says President Donald Trump.
CALIFORNIA'S IMPERIAL VALLEY SHAKES.  A swarm of nearly 600 earthquakes hits California's Imperial Valley area since Wednesday.  The swarm, including one with a magnitude 4.9 tremor, is centered beneath agricultural fields south of the Salton Sea, about 2 1/2 miles northeast of the small town of Westmorland.
OVERSEAS VOTERS CAN USE MILITARY POST OFFICES.  Americans overseas who are registered as absentee voters for the Nov. 3 election can mail their ballots from military post offices, regardless of whether they have base access.