Lifelong newspaper supporter Warren Buffett, via his Berkshire Hathaway, is selling BH's newspapers to publisher Lee Enterprises for $140 million, notes Grumpy Editor.
Buffett views the current newspaper business as unsustainable, warning in recent years that the industry is "toast" due to the decline in advertising.
His first job in the field was as newspaper delivery boy.
Among the 30 newspapers in the deal are the Buffalo News, Tulsa World, Richmond Times Dispatch , Omaha World Herald, Waco Tribune Herald and more than 100 weekly publications.
The newspapers' earnings have been declining in recent years.
Buffett's newspapers operations employed 3,685 at year-end 2018, down from 4,337 a year prior.
The deal is expected to close in March. 
IN CASE YOUR FAVORITE NEWS OUTLETS MISSED THESE…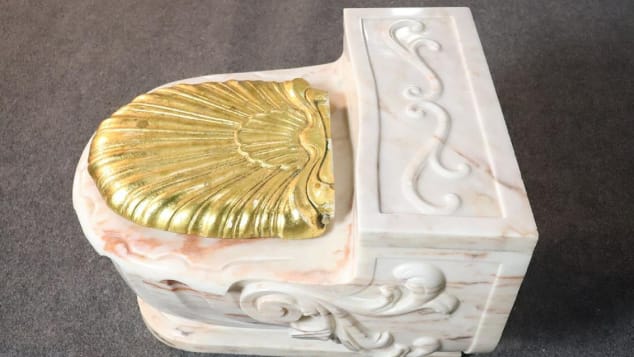 Sinatra's gold-seated toilet sells for $4,250.
SINATRA'S GOLD TOILET SEAT SOLD.  Singer-actor Frank Sinatra's highly sought-after Italian marble and gold-seated toilets are sold.  A gold one goes for  $4,250 while a basic marble one without a gold seat sells for $1,800. Also sold:  Sinatra's baby grand piano for $7,000.  Sinatra died in 1998.
POSTAGE STAMP HONORS GWEN IFILL.  The 43rd stamp in U.S. Postal Service's Black Heritage series honors Gwen Ifill,  journalist, television newscaster and author.  In 1999, she became the first woman of black heritage to host a nationally televised U.S. public affairs program with Washington Week in Review.
BLOOMBERG SPENDS HEAVILY ON TV.  Presidential candidate Mike Bloomberg spends $188 million from late November to year end.  In that period, about $140 million is spent on TV and digital advertising.
MURDOCH PLANS RADIO STATION.  Rupert Murdoch,  media mogul who founded News Corp., plans to inaugurate a radio station to rival BBC Radio 4 . Programming will run uninterrupted with no breaks for advertising.
HALF BILLION DOLLAR HOME IN L.A.  Movie producer turned developer Nile Niami says he's  about ready to test the market with a 100,000-square-foot mansion in the Bel-Air section of Los Angeles with an asking price of  $500 million . The property includes a nightclub, four swimming pools, bowling alley and 360-degree vistas.
SEINFELD WRITING COMEDY BOOK.  Comedian Jerry Seinfeld is writing a book about comedy, his first in 25 years.  Due out in October, the book is organized by decade, from the 1970s.
FTC WARNS ON ROBOCALLS.  The Federal Trade Commission puts 19 internet-based phone companies on notice that assisting or facilitating robocalls could place them in legal trouble.
ALASKA AIRLINES HIRING.  Alaska Airlines plans to hire almost 2,800 people this year, including about 400 pilots, divided equally between Alaska and Horizon Air, along with more than 300 flight attendants, more than 1,100 passenger service agents, 450 ground service agents and 90 maintenance technicians.
CHASE TRIMMING STAFFERS.  JMorgan Chase & Co., in a cost-cutting measure, this week plans to dismiss several hundred workers from its consumer unit as the lender seeks to rein in costs.  The unit contains deposit, credit-card, home-loan and auto-lending businesses.